By Katie Lyden, Dietetic Intern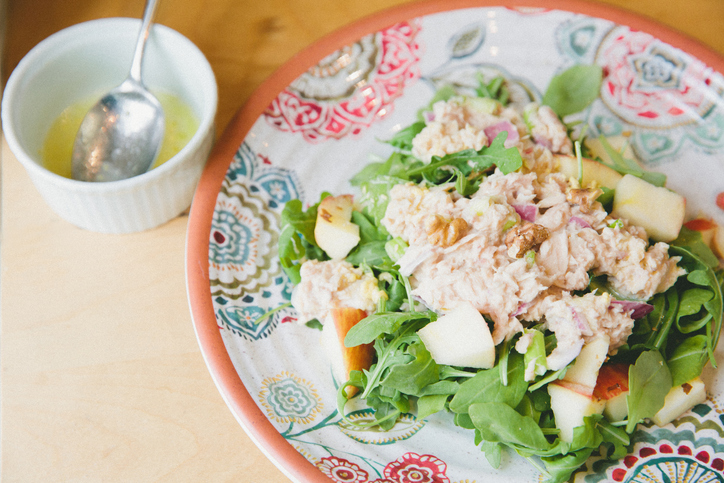 This salmon salad is quick and easy to make with less than 10 ingredients. It is gluten free and high in protein for anyone looking to increase their protein intake. It is also a moist dish and thus appropriate for those experiencing dry mouth or loss of taste. The canned salmon is more budget friendly and shelf stable, making this a wonderful dish to create when it seems like you have nothing available in your kitchen. When buying canned salmon, look for "no salt added" options, if you are trying to limit the amount of sodium in your diet. Here, we make it with a simple mixed green salad but it can also be eaten as a delicious sandwich. It is a great lunch or dinner option that can be made ahead of time!
Health Benefits
Salmon: Salmon is a healthy source of protein and omega-3 fatty acids. Omega-3s have many health benefits such as preventing blood clots and they may also help prevent irregular heartbeats, decrease triglyceride levels, decrease artery clogging plaque growth, and slightly decrease blood pressure. Salmon is also low in saturated fat and cholesterol [i].
Greek yogurt: Greek yogurt is high in protein, calcium, phosphorus and B vitamins. It also contains probiotics, which increase microbiome gut diversity. This helpful gut bacteria from yogurt can result in reduced inflammation which can have a positive effect on many chronic diseases [ii].
Avocado: Avocados are full of nutrients such as fat (mostly monounsaturated), fiber, B vitamins, Vitamin C, Vitamin E, Vitamin K, folate, potassium, magnesium and carotenoids. These nutrients are linked with lowering chronic disease risk. Avocados are also part of healthy diets such as the Mediterranean diet and DASH diet [iii].
Tomatoes: Tomatoes are a great source of nutrients such as potassium, vitamin c, iron, folate, and lycopene. They are high in antioxidants and are associated with reducing risk for certain cancers, benefiting heart health and reducing diabetes related oxidative stress [iv].
Recipe
Salmon Salad Over Greens
Serves: 2
Ingredients
1 can (6 oz) of wild pink salmon
1.5 tablespoons of mayonnaise
1.5 tablespoons of Greek yogurt
1 tablespoon of minced dried onion
4 cups of mixed greens
1 avocado, sliced
1 medium tomato, sliced
3 tablespoons of extra virgin olive oil
3 tablespoons of lemon juice
½ teaspoon salt
Freshly ground black pepper, to taste
Instructions
For the salmon salad
Open canned salmon and drain
Place salmon in a bowl, adding mayonnaise, Greek yogurt, and minced dried onion and mix
For the mixed lettuce salad
Wash lettuce, tomato and avocado
Slice avocado and tomato
Combine ingredients in a large bowl
For the dressing, combine the olive oil and lemon juice in a bowl, whisk and pour onto salad
Add salt and pepper to taste and enjoy
Notes:
Try the salmon salad on a sandwich with whole wheat or sourdough bread.
The salmon salad is something you can make ahead and keep in your fridge for lunch that week.
You can include additions to the salad such as other vegetables like zucchini, peppers, broccoli, and asparagus or cheese like feta or goat cheese or nuts like sliced almonds or crushed walnuts.
References:
[i] Desperately seeking salmon. Mayo Clinic. https://www.mayoclinic.org/healthy-lifestyle/nutrition-and-healthy-eating/multimedia/health-foods/sls-20076653?s=6. Published March 2023. Accessed June 7, 2023.
[ii] Yogurt. The Nutrition Source.
https://www.hsph.harvard.edu/nutritionsource/food-features/yogurt/.
Published November 2019. Accessed June 7, 2023. [iii] Avocados. The Nutrition Source. https://www.hsph.harvard.edu/nutritionsource/avocados/. Published February 2, 2023. Accessed June 7, 2023. [iv] Collins EJ, Bowyer C, Tsouza A, Chopra M. Tomatoes: An Extensive Review of the Associated Health Impacts of Tomatoes and Factors That Can Affect Their Cultivation. 
Biology. 
2022;11(2). doi:10.3390/biology11020239